Photo credit: Right Start Photography

Photo credit: Dave Justo Productions

Photo credit: Dazzle Photography

Photo credit: Morby Photography, LLC

Photo credit: Adrienne Matz Photography

Photo credit: Twisted Oaks Studio

Photo credit: Hoffer Photography

Photo credit: We Laugh We Love

Photo credit: Tyler Boye

Photo credit: Daniel Moyer Photography

Photo credit: Love Me Do Photography

Photo credit: Tina Jay Photography
B
B
B
B
B
B
B
B
B
B
B
B
B
B
B
Phoenixville Weddings with a Touch of Magic
A space for every cherished moment
Phoenixville Wedding's start at the Foundry. Every square inch of Phoenixville Foundry is meant for you to explore and dress the way you want to bring your wedding day to life. Share a kiss with your beloved outside on the Column Truss Bridge. Join in for a toast to your new life together in the West Wing Ballroom! Enjoy a signature cocktail with your friends in the Sculpture Garden or in the Cupola Ballroom & Mezzanine. Did we mention we have a champagne wall?
Your wedding is a series of special moments, which is why we offer a variety of versatile indoor and outdoor spaces in Phoenixville to make your memory of it more whole and complete.
Award-winning catering
We take pride in our ability to provide culinary excellence. No wedding day is the same, so our award-winning catering partner, J. Scott Catering, carefully crafts wedding catering menus to meet the desires of the couple. With creative cuisine featuring high-quality ingredients, the team ensures you are as in love with your catering menu as you are with each other. J. Scott Catering specializes in making your life easier—before and during your big day. We're grateful to partner with them for all our Phoenixville weddings!
Enthusiastic planners
Our expert wedding team has been planning Chester County weddings for years. They are true professionals who are completely in sync with you during the entire planning process and execute everything you had in mind for your special day flawlessly. We take pride in our ability to coordinate a wedding day that reflects you and your special love.
Our vendor partners are as detail-oriented as we are, so rest assured you are in good hands for your wedding. For your entertainment, are you feeling acrobats or a band? What kind of candles or flowers do you envision? What other details are important to you? Our team will take it from there.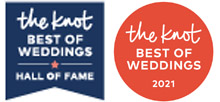 Related Posts