Bridal Shower Themes for Extraordinary Brides
For many women, finding love and getting married is something they've always wanted. And when that time finally arrives, you'd best believe they are over the moon! Before a "Miss" becomes a "Mrs.," though, oftentimes the people in her life take some time to "shower" her with love.
Bridal showers are a great opportunity for a bride to celebrate with her friends and family and get even more excited for the big day. Every bridal shower should be as fun, beautiful and unique as its guest of honor.
That's why the shower location is essential! Philadelphia has so many amazing bridal shower venues to choose from—The Phoenixville Foundry is one such venue. Here are a few themes to help make this magical bridal shower location yours for the day:
Travel-themed Soirée
Is the bride the kind of girl that's always rushing off to some new adventure? Is every page of her passport filled with stamps from exotic locales? Is she more excited about her honeymoon than about the actual wedding? Then a travel-themed shower might be the perfect choice for her!
Decorate the ballroom with maps and vintage suitcases. Have guests sign a globe as a guest book. Serve regional dishes from the bride's favorite places. This unique theme is sure to make your world-traveling bride smile—and she'll probably have lots of stories to tell!
Much of a travel-themed shower will center around the unique, exotic foods you'll serve the guests. This is why the Foundry is a perfect place for this type of bridal shower! Our catering team always makes delicious dishes from fresh, seasonal ingredients, and we're always willing to work with you and make a fully customized menu. We'll provide dishes from around the world…that are out of this world!

Photographer: Sarah Rachel Photography
Tea Party
Afternoon tea is a pretty common theme among modern brides. However, we happen to love this theme because there are so many fun things you can do with it. Add a little whimsy with a Mad Hatter-esque tea party.
If you're planning a shower that takes place during warmer weather seasons, consider having your tea party outside. The Phoenixville Foundry is a great venue for brides that want to enjoy the outdoors during their shower. Elegant outdoor spaces include the dramatic Sculpture Garden or West Patio, both cozy spots for such an intimate occasion as a bridal shower. Our event planning staff is always ready to help you unlock your creativity and create a truly special party.
We'll make sure you have enough refreshments for everyone. There's something about a gathering of ladies that makes everyone crave finger sandwiches, madeleines and earl grey!
Black Tie Extravaganza
Sometimes, a bride isn't looking for a sweet, simple bridal shower—she wants to go out with a bang! If that's the case, there's nothing better than a chic, sophisticated, black tie-style event. You can give this shower any specific theme you'd like (the Oscars, The Great Gatsby, etc.), but the goal is simple: dress up, look good, and have a great time.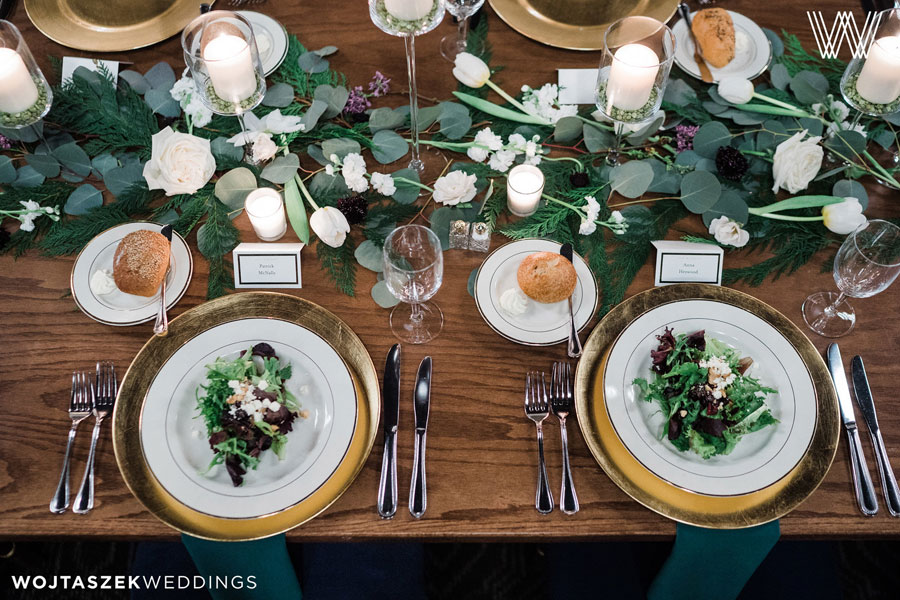 Photographer: Wojtaszek Weddings
A party of this magnitude will require a lot of razzle-dazzle. Luckily, we are committed to making every event truly personalized. We'll design the ballroom to match your vision down to the last detail. You can do as much or as little of the planning and set up as you like, and leave the rest to the professionals.
Whether you've been dreaming about an intimate shower with tea and crumpets, or a great big bash with a full menu to match, the Foundry and J. Scott Catering are ready to make that dream come true. We're dedicated to making sure that every bridal shower is the perfect party because we know the bride-to-be deserves it! Click here to book your next bridal shower, wedding or other special event.
More Articles you Might Like: